In September 2016, Versailles released a best album titled The Greatet Hits 2007-2016 to hype up their fans. After reuniting together and celebrating their 9th anniversary earlier this year, the band announced they will be touring through Europe in 2017. This will mark the band's 10th anniversary, as well as their third time in Europe.
Despite the fact the band is currently still in Japan, they made time in their busy schedule to answer questions for European media through email, which our contact would translate for us. JNL Team was offered the opportunity to partake in an interview with Versailles.
First of all, thank you for taking the time to answer questions despite your busy schedule. To start things of, could you please introduce yourselves?
KAMIJO: Bonjour, I'm KAMIJO the vocalist who change the blood to a rose.
TERU: I'm TERU, the guitar.
HIZAKI: My father is an angel, and my mother is a rose and made me HIZAKI.
YUKI: I'm YUKI, the drum.
This is not your first time touring Europe. What is your fondest memory of the last time you performed here?
KAMIJO: I can't forget the live at the Castle of Orleans in France.
MASASHI: the live at the Castle.
TERU: The live at the Castle of Orleans was great. The open-air live in Italy was also wonderful.
HIZAKI: My greatest memory….is you!
YUKI: All lives were great.
What is the biggest difference between Japanese and European fans?
KAMIJO: I love how European fans let them get carried away during the live.
MASASHI: their outgoing attitude.
TERU: They can communicate with us by music.
HIZAKI: I think that "Rock" seems me much more close.
YUKI: It seems that they enjoy as they feel the music.
Is there anything you want to do differently this time from your other performances in Europe?
KAMIJO: Of course, I'm thinking how can we make surprise each time.
MASASHI: I'm sure that it will be different.
TERU: Each live is always different. Please enjoy each moment.
HIZAKI: A fan plays my guitar??
YUKI: At live, it's always different and we never know what would happen. That's why I love it.
The name Versailles is also the name of a Palace called Château de Versailles in the French city Versailles. Have you been able to visit this palace the last time you toured through Europe?
KAMIJO: Yes, several times. I wish to make a live there someday.
MASASHI: I went to the entrance of the Palace.
TERU: Yes. I was impressed by its beauty.
HIZAKI: The beauty of the Palace was over what I had imagined. I was so impressed.
YUKI: Yes twice.
We all know Kamijo had a successful solo career for a while now, and that the other members had a successful career together as Jupiter. How does it feel to be back together as Versailles again?
KAMIJO: The assemble of powers is pleasant. Also it's very interesting to present some new songs which other members don't know.
MASASHI: I think that we had many new experiences and it affect Versailles to became more powerful.
TERU: I became to being able to work in Versailles with a fresh sprit.
HIZAKI: It's very peasant to fell that all times we spent separately wasn't waist.
YUKI: I think it's wonderful to seeing all of us evolved as well as a man also as a musician.
Versailles is not only known for their music but also their magnificent visual appeal. What inspires your fashion?
KAMIJO: The message of the band reflects directly to our costumes.
MASASHI: It's from the concept which is inside of me at the moment.
TERU: It's the fusion of the history and the modernity.
HIZAKI: Japanese idol.
YUKI: I'm trying to take the balance with other member's costumes.
Will you continue your concept of 'Descendant of Rose'?
KAMIJO: "Descendant of Rose" will continue even if the form would be different.
It's been 4 years since you last released new material, what can your fans expect from Versailles in the future?
KAMIJO: Songs evolved artistically.
MASASHI: Versailles songs more refined than ever.
TERU: I'm sure that all you expect of Versailles are on our new songs.
HIZAKI: to be more showy.
YUKI: New album
Out of all your accomplishments as a band, what are you most proud of?
KAMIJO: the happiness of our fans.
TERU: Family
YUKI: Versailles fans
Lastly, is there anything else you wish to say to your European fans?
KAMIJO: Please look forward to Versailles seriousness. We won't be easy on you. Let's rock!
MASASHI: Thank you for your wait. I'm looking forward to see you again.
TERU: Thank you for your wait. I can only say, thanks to all of our fans. Please keep supporting us.
HIZAKI: Can't stop to say I love you.
YUKI: Thank you for your supports! We will finally back to see you. Please enjoy together!
Thank you for your time! JNL Team wishes you many great performances and an amazing time in Europe.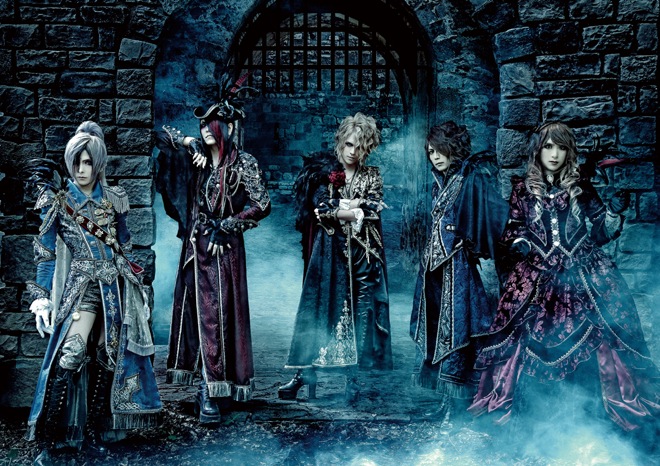 Don't forget to support Versailles by buying their The Greatest Hits 2007-2016 album, and make sure to buy your tickets for Versailles' European tour through B7Klan's website. If you enjoyed this interview or wish to be updated on our new content, please give our Facebook Page a like.