JNL Team present a short series of September album releases. Requested by our colleagues at GANSHIN Records in Germany, JNL Team will review a total of three new albums and singles that were released earlier this month or in August.
Album/Single: LOVE & CARNIVAL
Artist: angela
Review by: Mariëlle
The first album I will review is angela's LOVE & CARNIVAL, which was released on the 31st of August. The album was released in two versions, a regular edition and a Limited Edition.
For those who don't know, angela is a pop band, existing of two members: Atsuko and KATSU.  They debuted in 1999, but didn't get their big break until 2002, after they signed with Starchild and released 明日へのbrilliant road (Asu e no brilliant road; A brilliant road to Tomorrow). They're quite popular in the anime scene, as many of their songs have been used as theme songs for anime.
The main themes for this album are, as suggested by the title, love and festival/festivity. The album delights us with popular anime tracks from 2015, such as 騎士行進曲 (Kishi Koushinkyoku; Knight March) and 愛、ひと欠片 (Ai, Hito Kakera; Love, Fragment of Human) from Knight of Sidonia, as well as ホライズン (Horizon), 愛すること (Aisuru Koto; The thing that I love) and DEAD OR ALIVE from Fafner in the Azure EXODUS. Even KIZUNA (Bonds) from K RETURN OF KINGS and Jump Up from angela no sparking! Talking! Show! have all been added to the album as a treat to fans.
However, the thing I am most excited about are the 5 brand new songs that angela has in store for us. Because the other songs are all quite well known amongst anime fans that have seen the anime listed above, JNL Team will only review the new tracks on this album.
The first new track is Come on. It is a little eerie and mysterious in the first couple of seconds, and with the sound mixes it reminds me of something futuristic. But after about 35 seconds, the beat starts and the party can begin. The heavy use of autotune fits quite well with the beat of the song. The music is extremely catchy, and it gets easily gets stuck in  your hear. When I said Festivity was a theme for this album, I wasn't lying. This entire song is one big dance party.
Kore, natsumatsuri is the second new song. I have seen this title spelled as 是、夏祭り, (Ze, Natsu Matsuri; Yes, Summer Festival) as well, and I honestly don't know why. From the second the song starts playing, you get a whole different vibe than Come on. It's full of traditional Japanese instruments, which change the whole feeling of the song. The use of the flute is beautiful, and no autotune. Even the way Atsuko sings differs greatly from Come on and reminds me of traditional Japanese songs. Overall, I love this song.
The third song is EIEIO, and what a fantastic song indeed. It's the kind of song you'd hear at the beach during summer. It's super catchy and playful, and makes me feel like dancing. This song really brings out the festival vibes, like Kore Natsumatsuri did, but with a more summery edge to it. I like it.
Bringing back a little eerie feeling brings us to the next song; That's Halloween. Japan really loves Halloween, in fact, they already start celebrating it  in August or September, when some stores will already decorate Halloween style, and Halloween items will be sold already. Even Pokémon Centers will be selling their Halloween items around that time, it's a little crazy but lots of fun. Which is exactly what That's Halloween is too. It starts off a little creepy, totally fit for a Halloween party or movie. But once the song really gets going, it's a little crazy and fun to listen to. If you celebrate Halloween in your country, you might want to add this song to your playlist, because it will be perfect for a party.
Next up is Story ga Hajimaru. An upbeat, fun song for at the beach, yet very different from EIEIO. This song would fit nicely as the themesong for a comedy romance anime. It's a very light hearted song, and very relaxing at the same time. The sound of the ocean waves here and there is also very nicely done. I think this is one of my favorite songs from the album.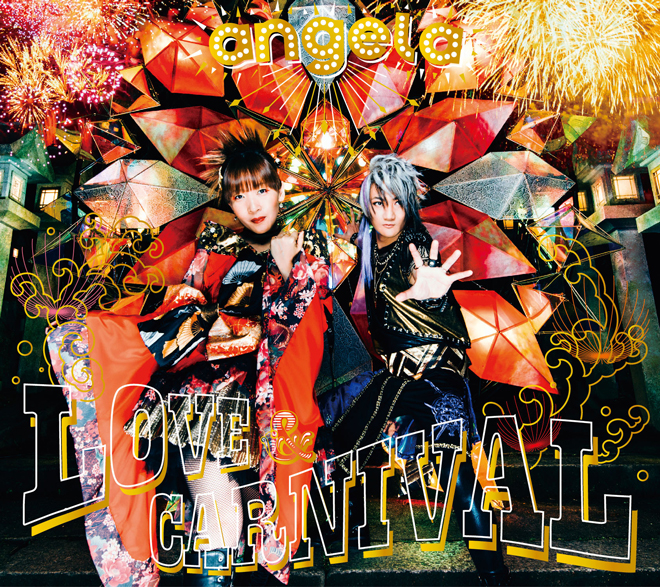 What I personally really like about angela's new album is the use of traditional Japanese instruments such as the Taiko drums you can hear in songs such as Kore, Natsumatsuri. I love how the themes of love and festivals and festivity keep returning in the album.
Basically, the whole album LOVE & CARNIVAL is a party, and you're invited to join and listen. And I really suggest you do. It's a great album overall, with amazingly catchy songs and fun themes.
If you're interested in buying LOVE & CARNIVAL by angela, please click one of the links below:
Or contact GAN-SHIN records about their digital releases of this album.
If you liked this review, give it a like on our website, and if you're interested in more of our reviews and other articles, please like our Facebook page.